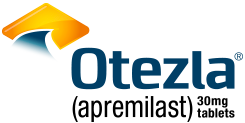 The FDA approves new data
for otezla® (apremilast)
New information coming soon to OtezlaPro.com
Are You a Healthcare Professional?
Which specialty pharmacies have Otezla® (apremilast)?
Otezla can be obtained through any pharmacy, including specialty pharmacies
This table includes contact information for specialty pharmacies that provide Otezla. Specialty pharmacies may furnish patient support by providing:
Guidance to patients whose insurance programs cover Otezla® and to those who lack health insurance
Suggestions and service to stay on track with medications
Assistance locating copay assistance programs and other financial support, such as Otezla SupportPlus™ and the Otezla Bridge Program
You may send an Otezla prescription to one of these specialty pharmacies or to a pharmacy of your choice that is not listed here.
Insurance Coverage for Otezla
This table lists the insurance companies that currently cover Otezla. Amgen Inc. continually works to expand the number of insurance companies that cover the cost of Otezla. If a patient's health plan isn't on the list, please contact Amgen Inc. to inquire if additional plans have recently been added.
INDICATIONS & IMPORTANT SAFETY INFORMATION
INDICATIONS & IMPORTANT SAFETY INFORMATION