MEAN CHANGE IN FATIGUE SCORE

THROUGH 5 YEARS 2
PALACE 1-3: Mean Change in FACIT-F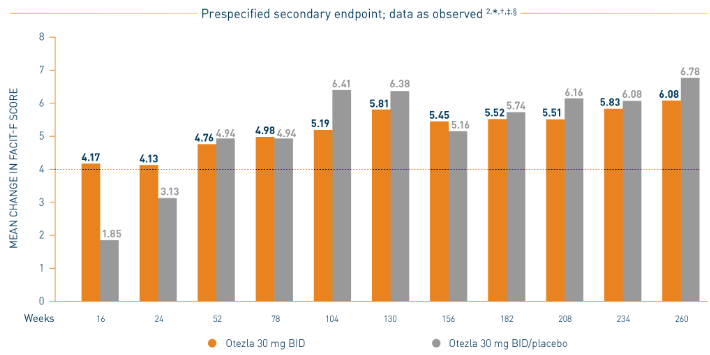 *Prespecified pooled analysis; weeks 16, 24, and 52 were prespecified secondary endpoints. †Includes all patients exposed to Otezla, including during the placebo-controlled period, regardless of when patients started taking Otezla (baseline, week 16, or week 24) through week 260. ‡FACIT-F is a 13-item, self-administered questionnaire that assesses fatigue and its physical impact on daily activities and function. The total FACIT-F score ranges from 0 to 52, with lower scores denoting higher levels of fatigue.
Consider OLE study limitations when interpreting results. The OLE is not blinded, not controlled, and includes inherent self-selection bias. During the Otezla-exposure period (weeks 0–260), 11.9% of patients taking Otezla 30 mg BID had AEs that led to discontinuation from the study. 3,§
§The OLE period was from weeks 52 to 260.