MEAN PERCENT CHANGE IN FATIGUE SCORE

THROUGH 5 YEARS 2
PALACE 1-3: Mean percentage change in FACIT-Fatigue score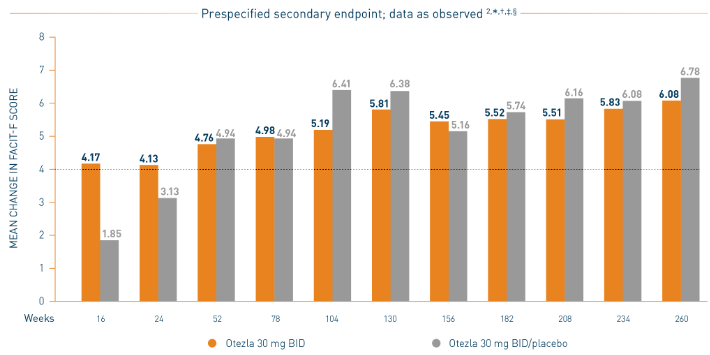 *Data are presented "as observed" with no imputation for missing values in order to describe outcomes among those patients who continued to receive treatment over 260 weeks. †Includes all patients exposed to Otezla, including during the placebo-controlled period, regardless of when patients started taking Otezla (baseline, week 16, or week 24) through week 260. ‡FACIT-F is a 13-item, self-administered questionnaire that assesses fatigue and its physical impact on daily activities and function. The total FACIT-F score ranges from 0 to 52 with lower scores denoting higher levels of fatigue. 3 §The n at each timepoint represents patients with a baseline value and a post-baseline value at the timepoint and includes patients who discontinued early between the preceding timepoint and the specific timepoint.
Consider open-label extension (OLE) phase study limitations when interpreting results. The OLE was not blinded, not controlled, and included inherent self-selection bias. Overall, from weeks 52 to 260, a total of 156 patients (30%) discontinued during the study, of which 33 patients (6.3%) discontinued due to adverse events 3,**
**The OLE period was from weeks 52 to 260.