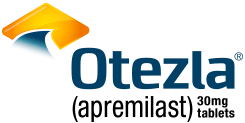 The FDA approves new data
for otezla® (apremilast)
New information coming soon to OtezlaPro.com
Are You a Healthcare Professional?
STYLE Otezla Module: Data in Patients with Moderate to Severe Scalp Psoriasis
Chapter 1: Introduction, Study Design, and Primary Endpoint
Learn about the STYLE clinical trial study design, primary endpoint (the proportion of patients who achieved ScPGA response at week 16) and Important Safety Information.
Chapter 2: Open-label Extension Phase Data
Explore data on the ScPGA response through 32 weeks of treatment.
Chapter 3: Scalp Itch and Whole Body Itch Data
Learn about scalp itch and whole body itch data through 16 and 32 weeks of treatment.
INDICATIONS & IMPORTANT SAFETY INFORMATION
INDICATIONS & IMPORTANT SAFETY INFORMATION