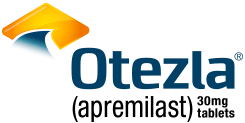 The FDA approves new data
for otezla® (apremilast)
New information coming soon to OtezlaPro.com
Are You a Healthcare Professional?
A Real-World Perspective on Joint Care in Dermatology & Rheumatology
Chapter 1: Case-based Insights to Recognize and Manage Psoriatic Disease
Dr. Glick (Dermatologist) and Dr. Sulich (Rheumatologist) discuss recognizing early signs of psoriatic arthritis in your patients, and the importance of communication between specialties for the successful comanagement of patients.
Chapter 2: Otezla Is the Only Oral Therapy Indicated for Plaque Psoriasis and Psoriatic Arthritis
Explore Otezla data from the ESTEEM trials in moderate to severe plaque psoriasis and the PALACE trials in active psoriatic arthritis.
INDICATIONS & IMPORTANT SAFETY INFORMATION
INDICATIONS & IMPORTANT SAFETY INFORMATION