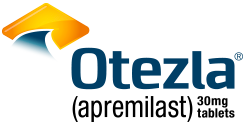 The FDA approves new data
for otezla® (apremilast)
New information coming soon to OtezlaPro.com
Are You a Healthcare Professional?
Mechanism of Action
Otezla® (apremilast) inhibits PDE4 intracellularly and has anti-inflammatory properties1-4
Click arrow for more information
LEARN MORE ABOUT THE INTRACELLULAR MECHANISM OF ACTION OF OTEZLA IN THE VIDEO BELOW
The specific mechanism(s) by which Otezla exerts its therapeutic action in psoriasis is not well defined.1
THE ROLE OF PDE4 AND
c

AMP IN CONTROLLING INFLAMMATION1-3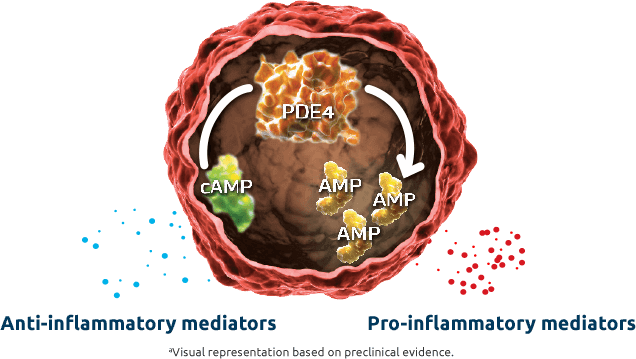 Inflammatory cella
Cyclic adenosine monophosphate (cAMP) is a second messenger for a variety of inflammatory mediators1
Phosphodiesterase 4 (PDE4) is a cAMP-specific PDE that has been shown to degrade cAMP to AMP in inflammatory cells1,4,5
The balance between cAMP and AMP within a cell may modulate the expression of pro-inflammatory and anti-inflammatory mediators3
Otezla is a non-biologic oral PDE4 inhibitor with a distinct mechanism of action4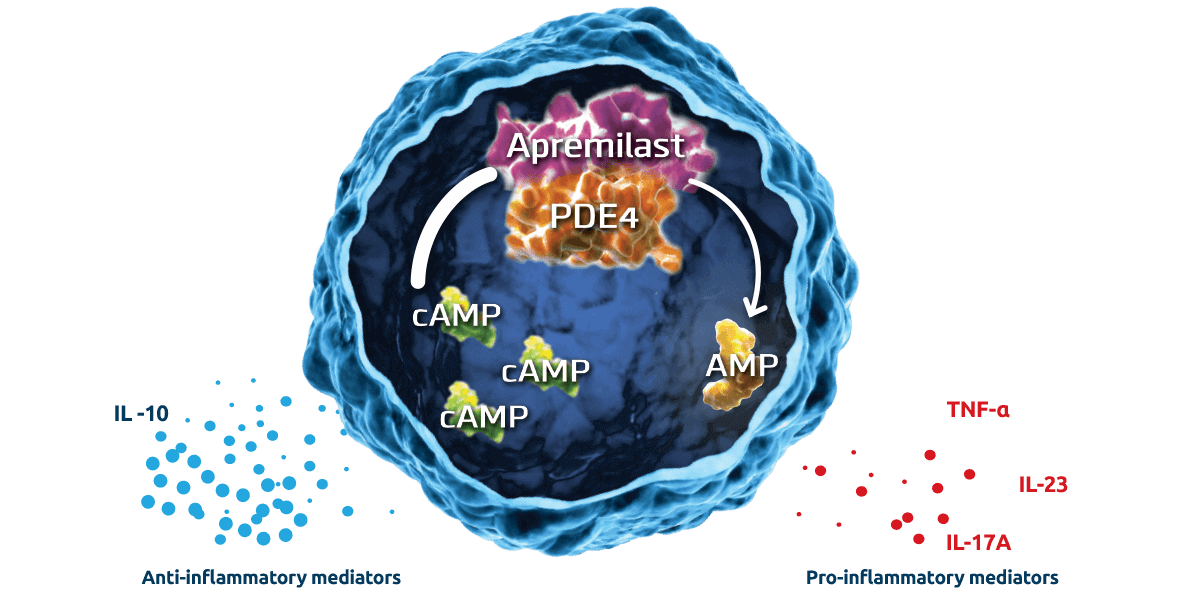 Inflammatory cella
Otezla inhibits PDE4 intracellularly4
The specific mechanism(s) by which apremilast exerts its therapeutic action in patients with psoriatic arthritis is not well defined4
By elevating cAMP levels, Otezla is thought to indirectly modulate production of inflammatory mediators2,3
An exploratory PALACE 1 substudy evaluating 47 biomarkers, some of which are relevant in the pathophysiology of psoriatic disease, observed6-9,b,c:

An increase in anti-inflammatory mediators, such as IL-10
A decrease in pro-inflammatory mediators, such as TNF-α, IL-17A, and IL-23
References: 1. Moore AR, Willoughby DA. Clin Exp Immunol. 1995;101(3):387-389. 2. Schafer PH, Parton A, Gandhi AK, et al. Br J Pharm. 2010;159(4):842-855. 3. Schafer P. Biochem Pharmacol. 2012;83(12):1583-1590. 4. Otezla [package insert]. Thousand Oaks, CA: Amgen Inc. 5. Soto FJ, Hanania NA. Curr Opin Pulm Med. 2005;11(2):129-134. 6. Schafer PH, Chen P, Fang L, Wang A, Chopra R. J Immun Res. 2015. doi:10.1155/2015/906349. 7. van Kujik AW, Reinders-Blankert P, Smeets TJ, Dijkmans BA, Tak PP. Ann Rheum Dis. 2006;65(12):1551-1557. 8. Ritchlin CT, Haas-Smith DH, Cappuccio J, Osterland CK, Looney RK. J Rheumatol. 1998;25(8):1544-1552. 9. Barnas JL, Ritlin CT. Rheum Dis Clin North Am. 2015;41(4):643-663.
INDICATIONS & IMPORTANT SAFETY INFORMATION
INDICATIONS & IMPORTANT SAFETY INFORMATION