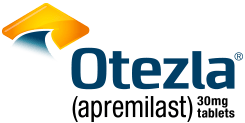 The FDA approves new data
for otezla® (apremilast)
New information coming soon to OtezlaPro.com
Are You a Healthcare Professional?
Moderate to Severe Plaque Psoriasis
Moderate to Severe Plaque Psoriasis
*
*
The efficacy and safety of Otezla was evaluated in 2 multicenter, double-blind, placebo-controlled trials of similar design. Patients with moderate to severe plaque psoriasis (N = 1257) were randomized 2:1 to Otezla 30 mg twice daily or placebo for 16 weeks after a 5-day titration.
1,3,4
In ESTEEM 1, Otezla significantly increased PASI-75 response (n = 562) at week 16 (primary endpoint) vs placebo (n = 282) (33% vs 5%;
P
< 0.0001).
1,3
The most common adverse reactions (≥5%) were diarrhea, nausea, upper respiratory tract infection, tension headache, and headache.
1
References: 1. Otezla [package insert]. Thousand Oaks, CA: Amgen Inc. 2. Data on file, Amgen Inc. 3. Papp K, Reich K, Leonardi CL, et al. J Am Acad Dermatol. 2015;73(1):37-49. 4. Paul C, Cather J, Gooderham M, et al. Br J Dermatol. 2015;173(6):1387-1399.
INDICATIONS & IMPORTANT SAFETY INFORMATION
INDICATIONS & IMPORTANT SAFETY INFORMATION