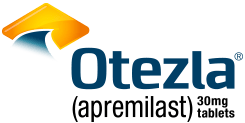 The FDA approves new data
for otezla® (apremilast)
New information coming soon to OtezlaPro.com
Are You a Healthcare Professional?
What is the mechanism of action (MOA) for Otezla® (apremilast) in psoriatic arthritis?
OTEZLA IS A NON-BIOLOGIC ORAL PDE4 INHIBITOR WITH A DISTINCT MOA FOR THE TREATMENT OF ADULT PATIENTS WITH PSORIATIC ARTHRITIS.1
Otezla works by inhibiting phosphodiesterase 4 (PDE4) intracellularly and has anti-inflammatory properties.1-4 By elevating cyclic adenosine monophosphate (cAMP) levels, Otezla is thought to indirectly modulate production of pro-inflammatory and anti-inflammatory mediators.2,3
PDE4 and cAMP
Learn more about the role of phosphodiesterase 4 (PDE4) and cAMP in controlling inflammation.2-4
Otezla MOA
Learn how Otezla's inhibition of PDE4 within cells affects the production of inflammatory mediators.1,3,4
The specific mechanism(s) by which Otezla exerts its therapeutic action in psoriatic arthritis are not well defined.1
References: 1. Otezla [package insert]. Thousand Oaks, CA: Amgen Inc. 2. Moore AR, Willoughby DA. Clin Exp Immunol. 1995;101(3):387-389. 3. Schafer PH, Parton A, Gandhi AK, et al. Br J Pharm. 2010;159(4):842-855. 4. Schafer P. Biochem Pharmacol. 2012;83(12):1583-1590.
INDICATIONS & IMPORTANT SAFETY INFORMATION
INDICATIONS & IMPORTANT SAFETY INFORMATION