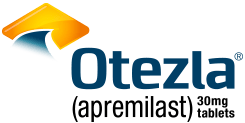 The FDA approves new data
for otezla® (apremilast)
New information coming soon to OtezlaPro.com
Are You a Healthcare Professional?
Mechanism of Action
Otezla® (apremilast) inhibits PDE4 intracellularly and has anti-inflammatory properties1-4
Click arrow for more information
PDE4 has been shown to be present within inflammatory cells2-5
Inflammatory cella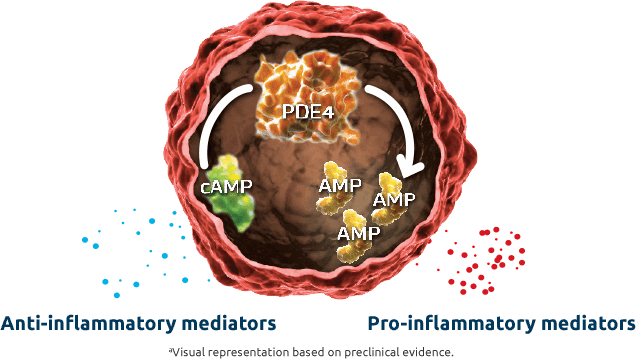 The role of phosphodiesterase 4 (PDE4) and cyclic adenosine monophosphate (cAMP) in controlling inflammation
cAMP is a second messenger for a variety of inflammatory mediators4
PDE4 is a cAMP-specific PDE that has been shown to degrade cAMP to AMP in inflammatory cells3-5
The balance between cAMP and AMP within a cell may modulate the expression of pro-inflammatory and anti-inflammatory mediators2
Otezla is a non-biologic PDE4 inhibitor that works intracellularly1-3
Inflammatory cella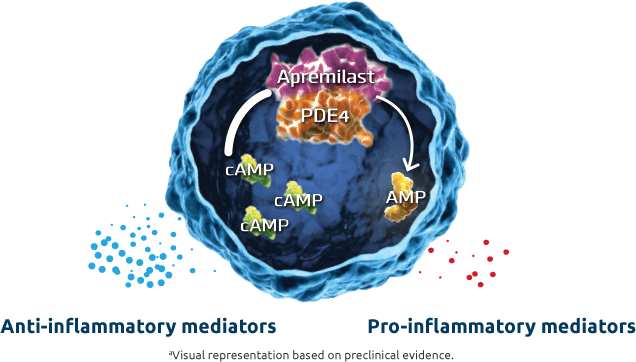 The mechanism of action of Otezla
The specific mechanism(s) by which Otezla® (apremilast) exerts its therapeutic action in patients with BD is not well defined3
By elevating cAMP levels, Otezla is thought to indirectly modulate production of inflammatory mediators1,2
References: 1. Schafer PH, Parton A, Gandhi AK, et al. Br J Pharmacol. 2010;159(4):842-855. 2. Schafer P. Biochem Pharmacol. 2012;83(12):1583-1590. 3. Otezla [package insert]. Thousand Oaks, CA: Amgen Inc. 4. Moore AR, Willoughby DA. Clin Exp Immunol. 1995;101(3)387-389. 5. Soto FJ, Hanania NA. Curr Opin Pulm Med. 2005;11(2):1583-1590.
INDICATIONS & IMPORTANT SAFETY INFORMATION
INDICATIONS & IMPORTANT SAFETY INFORMATION