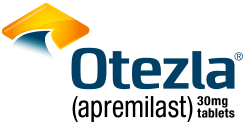 The FDA approves new data
for otezla® (apremilast)
New information coming soon to OtezlaPro.com
Are You a Healthcare Professional?
How to prescribe Otezla® (apremilast)
The process to start patients on Otezla is described below.
Prescribing Otezla is a straightforward process that is supported at each step by the Otezla SupportPlus™ team. If you have any questions about prescribing through disbursement, call 1-844-4Otezla.
Patient Information
Once you have identified Otezla as the appropriate therapy for your patient, you will need to collect the patient's information, including their prescription benefit information. As the prescriber, you will need to select a specialty pharmacy (SP) to process the prescription or choose Otezla SupportPlusTM (OSP) to initiate the prescription process, and then provide a Starter Pack, if appropriate. If you need to obtain starter packs, request a rep.
Benefit Verification
The verification process depends on the insurance carrier's requirement for prior authorization. Review this simple flow chart for details about benefit verification options.
For information about insurance coverage for Otezla, review this table, which lists many of the insurance plans that currently cover Otezla. Amgen Inc. continually works to expand the number and location of insurance plans that cover the cost of Otezla.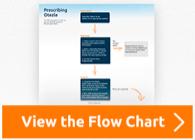 Resource Center
The Resource Center includes links to the Start Form and to the prescription start guide, which includes comprehensive instructions on how to prepare and submit the prescription, as well as how to verify your patients' insurance benefits. A list of specialty pharmacies that supply Otezla is provided, as are details about financial assistance, reimbursement support, and patient support that is available through the Otezla SupportPlus™ program.
If you have questions related to pharmacy benefit management procedures, please contact Otezla Support Plus (1-844-4Otezla) 8 AM - 8 PM ET, Monday – Friday.
Financial Assistance
The Otezla SupportPlus™ program offers multiple resources for you and your patients, including insurance and reimbursement support. Financial assistance options are available to patients who face a wide variety of insurance scenarios:
Patients with commercial health insurance plans
Patients covered by Medicare and Medicaid
Patients without health insurance coverage
Underinsured patients
Click here to learn more about Otezla SupportPlus™ or contact an Amgen Inc. representative at 1-844-4Otezla to discuss which financial-assistance program may be appropriate for your patient.
INDICATIONS & IMPORTANT SAFETY INFORMATION
INDICATIONS & IMPORTANT SAFETY INFORMATION