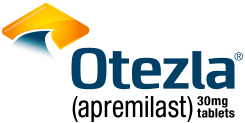 The FDA approves new data
for otezla® (apremilast)
New information coming soon to OtezlaPro.com
Are You a Healthcare Professional?
Request a Rep
Learn more about Otezla® (apremilast) prescribing, efficacy and safety, patient savings, and more from an Otezla Sales Representative. Your sales rep can also provide Otezla Starter Kits
Main Contact Information
Amgen Inc.
One Amgen Center Drive
Thousand Oaks, CA 91320-1789
+1 805-447-1000
Medical Information
Medical questions or adverse event reports can be directed to Amgen Inc. Medical Information at:
Phone
800-77-AMGEN (800-772-6436)
Email
medinfo@amgen.com
Thanks for contacting us! We will get in touch with you shortly.
INDICATIONS & IMPORTANT SAFETY INFORMATION
INDICATIONS & IMPORTANT SAFETY INFORMATION