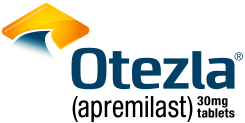 The FDA approves new data
for otezla® (apremilast)
New information coming soon to OtezlaPro.com
Are You a Healthcare Professional?
Request an FRM
Learn more about access and coverage options from an Otezla® (apremilast) field reimbursement manager
Main Contact Information
Amgen Inc.
One Amgen Center Drive
Thousand Oaks, CA 91320-1789
+1 805-447-1000
Medical Information
Medical questions or adverse event reports can be directed to Amgen Inc. Medical Information at:
Phone
800-77-AMGEN (800-772-6436)
Email
medinfo@amgen.com
Thanks for contacting us! We will get in touch with you shortly.
INDICATIONS & IMPORTANT SAFETY INFORMATION
INDICATIONS & IMPORTANT SAFETY INFORMATION