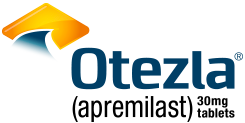 The FDA approves new data
for otezla® (apremilast)
New information coming soon to OtezlaPro.com
Are You a Healthcare Professional?
Mechanism of Action
Otezla® (apremilast) inhibits PDE4 intracellularly and has anti-inflammatory properties1-4
Click arrow for more information
Learn more about the intracellular mechanism of action of Otezla in the video below
The specific mechanism(s) by which Otezla exerts its therapeutic action in psoriasis is not well defined.1
PDE4 has been shown to be present within inflammatory cells2-7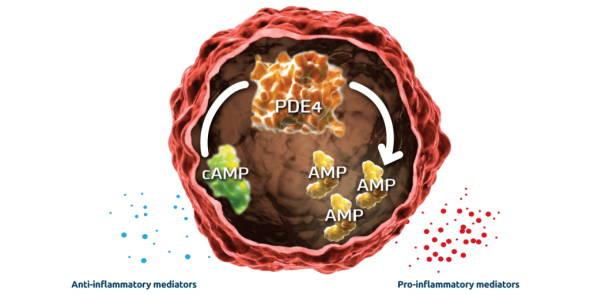 Inflammatory cella
The role of phosphodiesterase 4 (PDE4) and cAMP in controlling inflammation
Cyclic adenosine monophosphate (cAMP) is a second messenger for a variety of inflammatory mediators2,5-7
PDE4 is a cAMP-specific PDE that has been shown to degrade cAMP to AMP in inflammatory cells2-6
OTEZLA INHIBITS PDE4 INTRACELLULARLY AND HAS
ANTI-INFLAMMATORY PROPERTIES‍1‍-‍4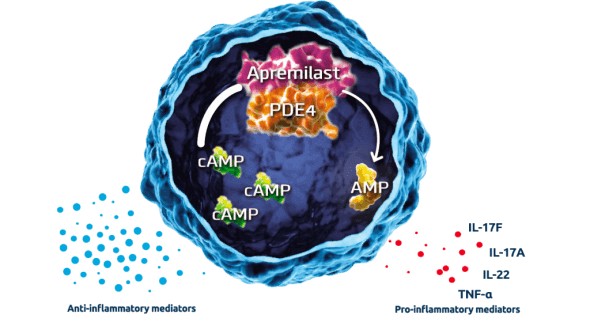 Inflammatory cella
Otezla has a different MOA3
The specific mechanism(s) by which apremilast exerts its therapeutic action in patients with psoriasis is not well defined1
By elevating cAMP levels, Otezla is thought to indirectly modulate production of inflammatory mediators3
In a phase 2, open-label study, pharmacodynamic analyses of patients with plaque psoriasis treated with Otezla (n = 19) showed decreased6,b:

Lesional skin epidermal thickness
Expression of pro-inflammatory genes
Inflammatory cell infiltration

An exploratory ESTEEM 2 biomarker substudy evaluating 47 biomarkers, some of which are relevant in the pathophysiology of psoriasis, observed a decrease in pro-inflammatory mediators, such as IL-17F, IL-17A, IL-22, and TNF‍-‍α8‍-‍10,c

These biomarker analyses were exploratory and not designed to detect changes in biomarker levels or the relationship between biomarker change and clinical outcome8
References: 1. Otezla [package insert]. Thousand Oaks, CA: Amgen Inc. 2. Schafer PH, Parton A, Gandhi AK, et al. Br J Pharm. 2010;159(4):842-855. 3. Schafer PH, Parton A, Capone L, et al. Cell Signal. 2014;26(9):2016-2029. 4. Schafer P. Biochem Pharmacol. 2012;83(12):1583-1590. 5. Schett G, Sloan VS, Stevens RM, Schafer P. Ther Adv Musculoskelet Dis. 2010;2(5):271-278. 6. Gottlieb AB, Matheson RT, Menter A, et al. J Drugs Dermatol. 2013;12(8):888-897. 7. Moore AR, Willoughby DA. Clin Exp Immunol. 1995;101(3):387-389. 8. Data on file, Amgen Inc. 9. Garcet S, Nograles K, Correa da Rosa J, et al. J Allergy Clin Immunol. 2018;142(3):1010-1013. 10. Nestle FO, Kaplan DH, Barker J. N Eng J Med. 2009;361(5):496-509.
INDICATIONS & IMPORTANT SAFETY INFORMATION
INDICATIONS & IMPORTANT SAFETY INFORMATION